Odoo equipment maintenance module that help to creates work orders for avoidance maintenance tasks and anticipating maintenance scheduling. These Equipment Maintenance management odoo module, increase the runtime and duration of equipment by managing maintenance operations.
MRO Module in odoo allows you to configure Plan for the materials. This All in one Maintenance odoo app is useful for build job contract business. MRO Equipment Maintenance in odoo that helps users to create machine maintenance requests and on this request you are able to maintain required plan.MRO Equipment Odoo Maintenance Request you can create material requisition request as purchase requisition.
Following are steps to perform process :
You can Check detail view of equipment

Assign option for created job order to himself or other maintenance staff

First go MRO User then goto Maintenance Request then Job Order Created
There are main goal of prompt Equipment Maintenance that revolves around maintaining functionality and decrease breakdowns. The company should run several types of repair and service events. Different organization's workflows need different types of maintenance, This Maintenance Request from odoo module will help you to implement best practices which can raise efficiency levels for assets.
Key Features of maintenance odoo apps :
There are you can create a Job Order for Staff or Technician
Add New Maintenance Request
You are allows to add new maintenance request for scrap machine
There Are Maintenance Dashboard Available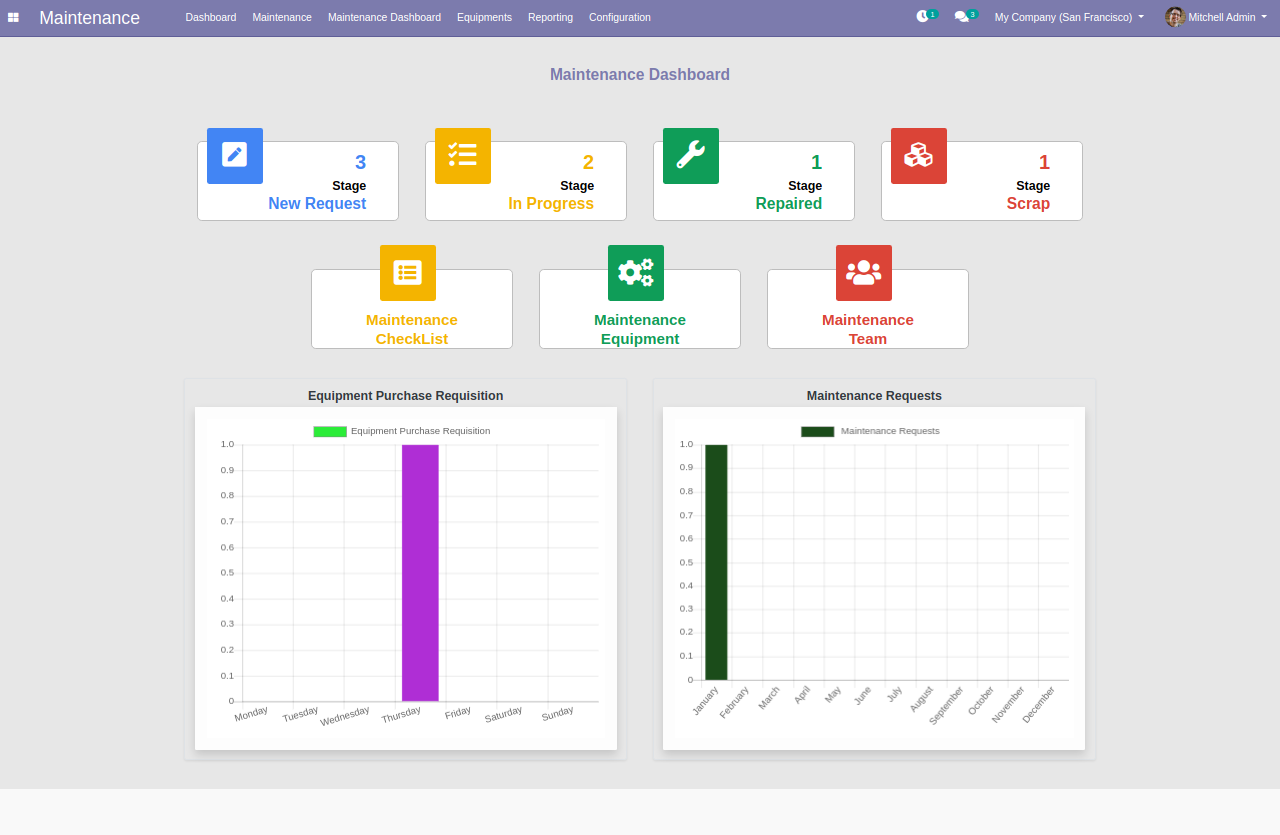 Menu Of Maintenance CheckList Configuration

Maintenance CheckList Tree View

Menu Of Maintenance Equipments

Maintenance Equipments Form View

Maintenance Equipments's Maintenance Plan Material Tab.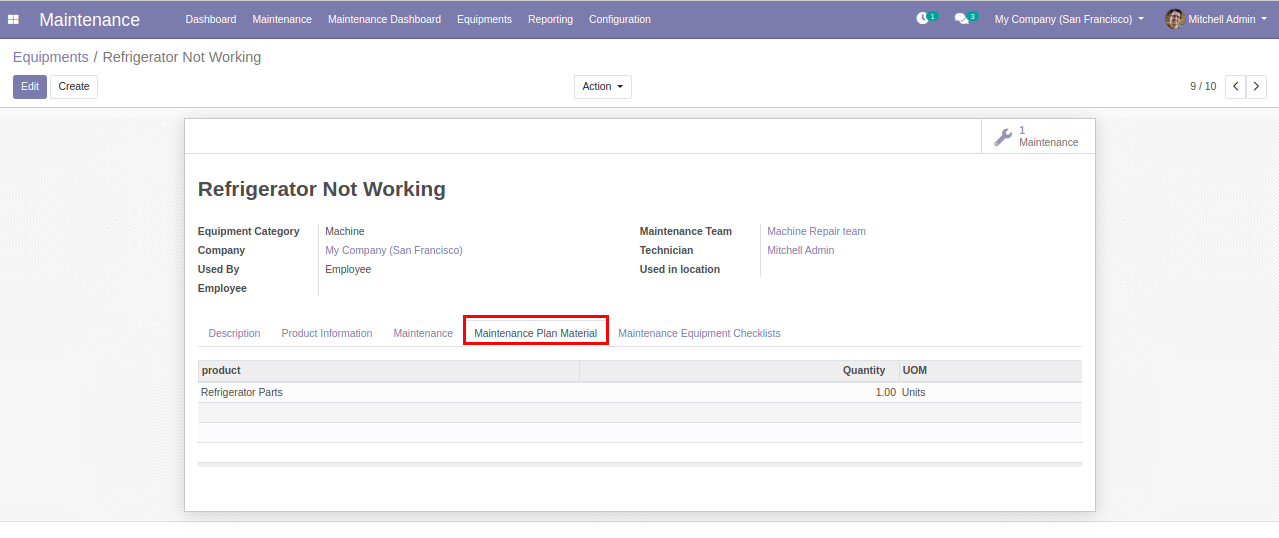 Maintenance Equipments's Maintenance Equipment CheckList Tab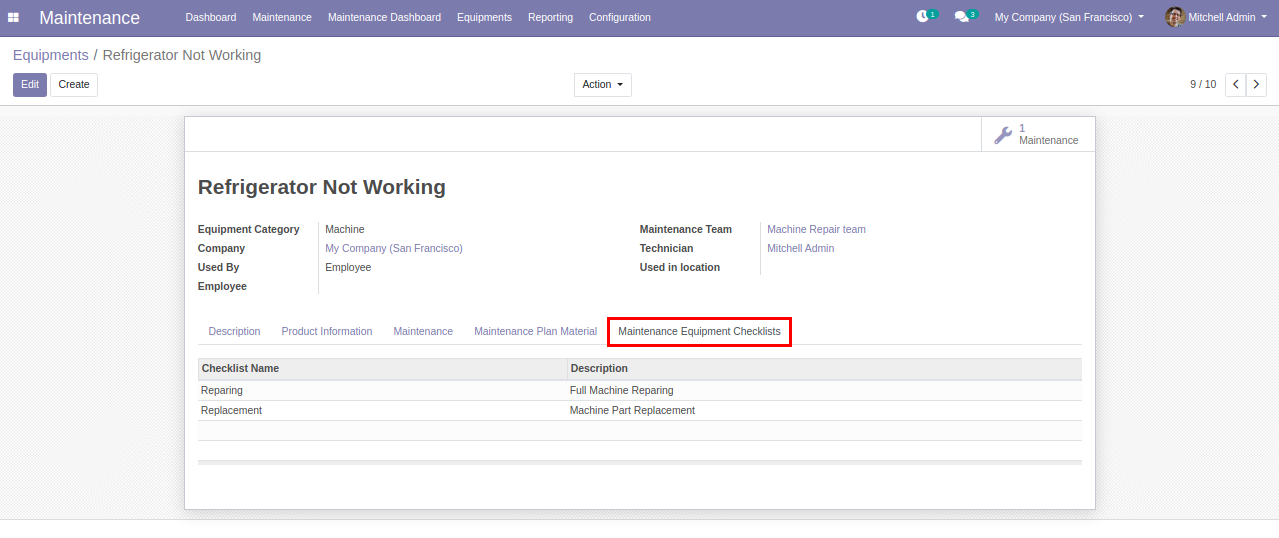 Menu Of Maintenance Requests

Maintenance Requests's Maintenance Request CheckList Tab
Maintenance Request's Maintenance Plan Material Tab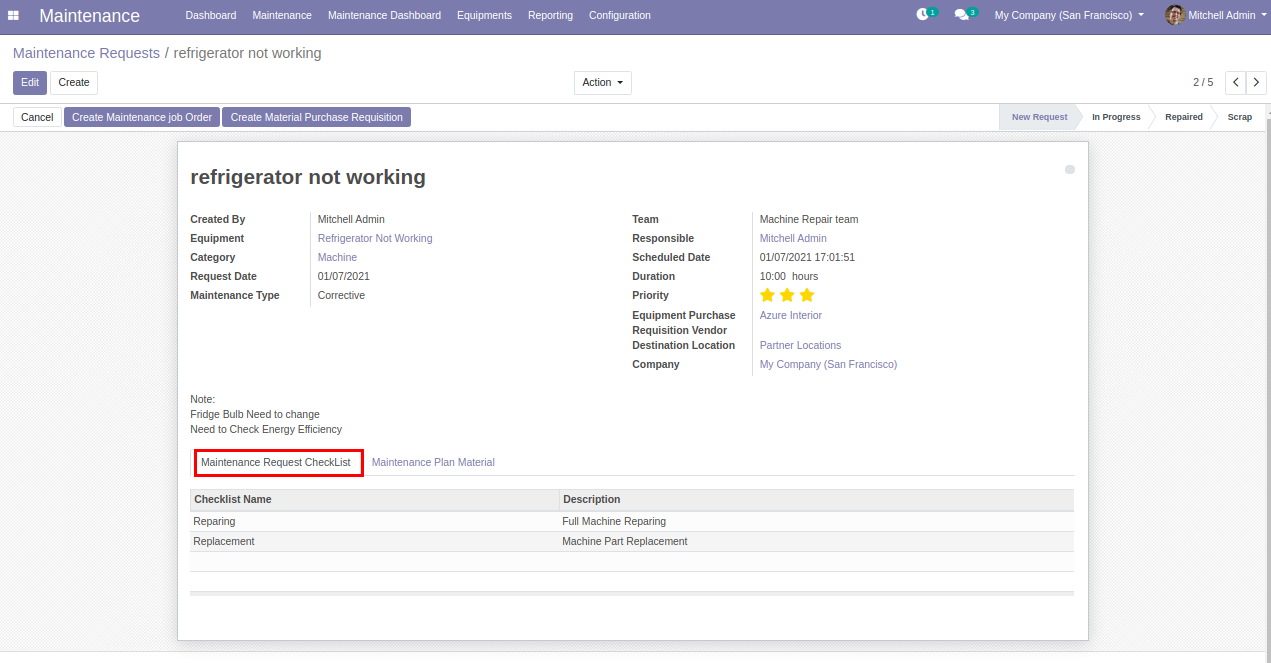 Maintenance Request then Create Maintenance Job Order
Job Order Redirection Button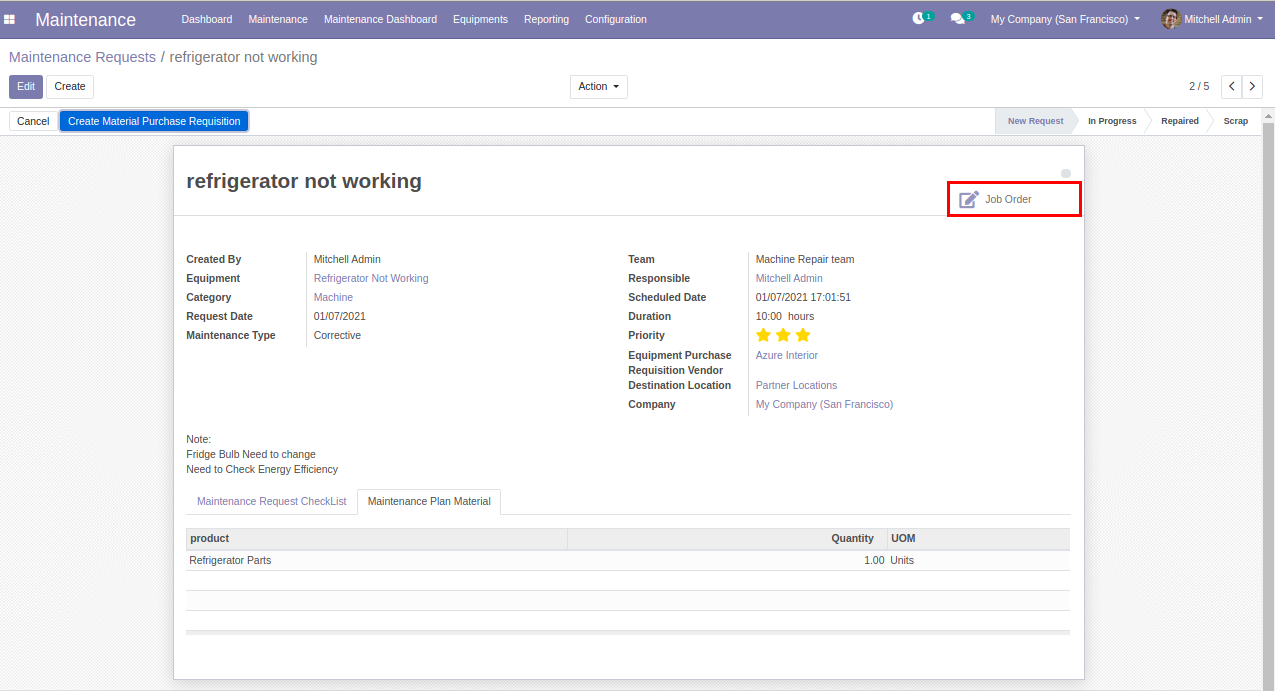 Job Orders Kanban View

Job Orders Form View

Maintenance Request then Create Material Purchase Requisition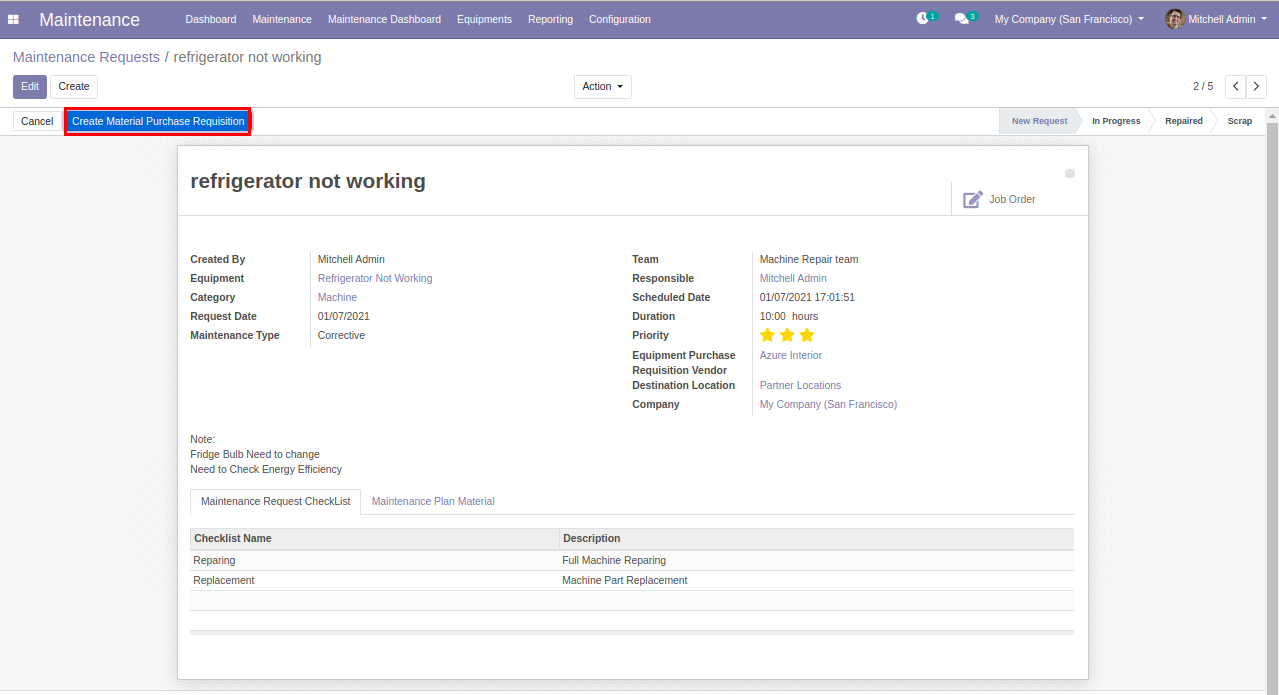 Material Purchase Requisition Button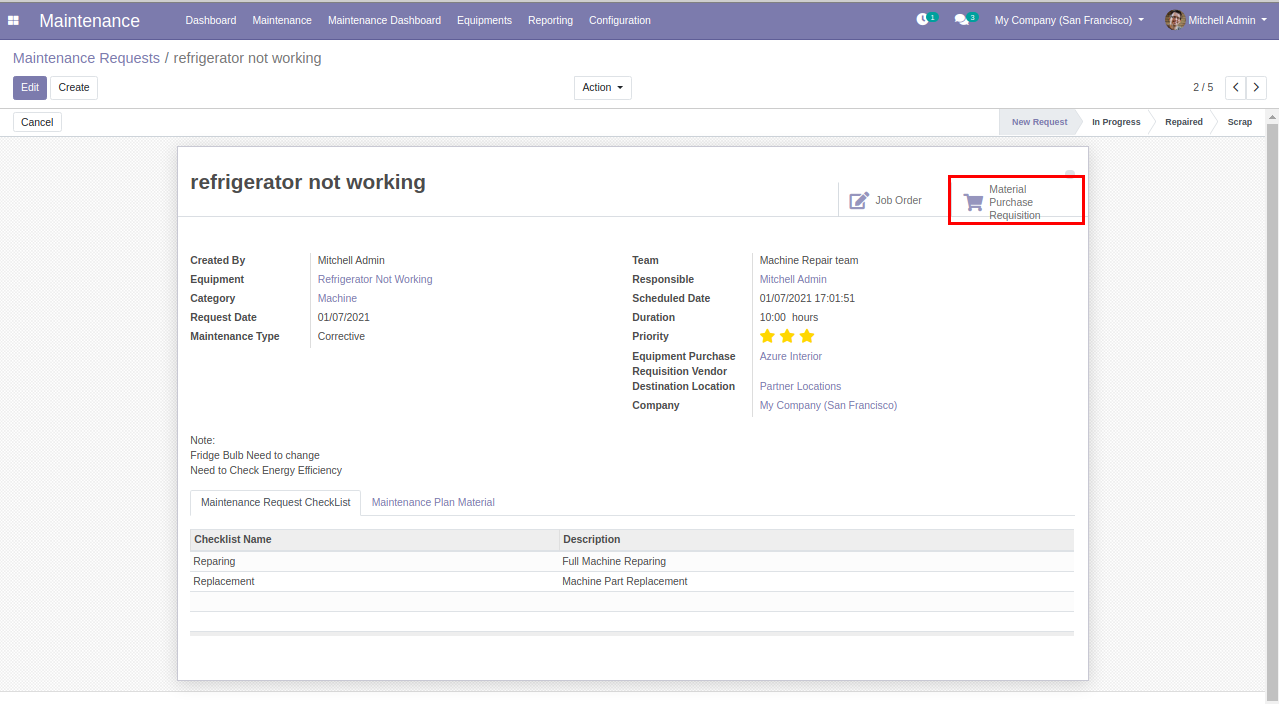 Material Purchase Requisition Kanban View

Material Purchase Requisition Form View