Update your odoo version with odoo 15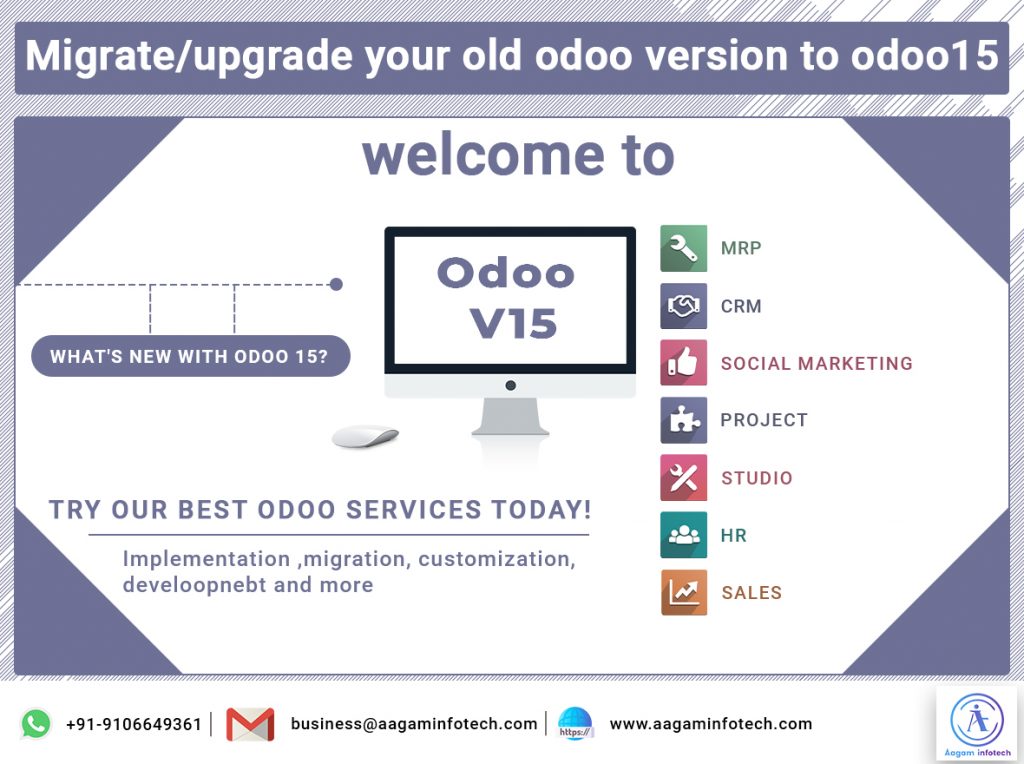 Introduction :
---
---
In every business companies data is major source. Any company can not afford their important operational data in the process of upgradation. in every company data will require migration of new version for smooth and faster process flow. In this data migration terms company migrate and upgrade their data in forms of charts, tables. Contacts and many more.
---
---
---
01
New screen for import in odoo v15
New import screen introduce in odoo new v15. In new import screen odoo introduce separate menu for managing cash rounding with the help of this user can easily manage accounting and invoicing this new import screen are implemented in all odoo applications and odoo modules.
02
Edit and adjust options in pivot and graphs views
Odoo 15 introduced powerful options in pivot and graphs views in this powerful option odoo 15 include edit and adjust options in pivot and graphs views. By using edit and adjust option in graphs view user can improve their presentation of data and take valuable decision.
03
New html editor in odoo v15
Odoo v15 come with new html editor this new html editor is looks same as text editor so user can use this new html editor to enhance their productivity.
04
Powerful Purchase management
Odoo v15 also include a capable purchase management. this is another new and helpful feature in odoo v15. in this purchase dashboard user can get a best view of purchase dashboard. In this purchase dashboard user get all new graphs,charts and statics. In this flexible purchase dashboard in odoo user can provide taxable and non taxable whole amount.got to reapportioning tab and click on odoo v15 and you will get capable purchase management dashboard.
05
Newly designed e-commerce page
In new odoo v15 we will get fresh designed e-commerce page with new appearance. In this new e-commerce page user can add description of product, facility of add to cart and several modules for payment and more. in new e-commerce page user can get the facility to add description of products so its been very easy to identify the usage of various products.
In Odoo V15 user can find user can find easy tool for reporting actual project progress chart. this chart will help the user to identify the actual progress and situation of the project
07
lead management and website builder are Redesigned
Odoo v15 introduced lead management and website builder with new design. by using this newly designed website builder user can make website with an easier and faster manner. In Redesigned lead management in odoo user get new gmail addon that allows user to create leadership directly.
08
POS and Coupon Promotion Programme
In older version Coupon Promotion Programme are only available for sales and e commerce website but in new odoo version 15 coupan promotion programs are also available in POS. User can enable POS programs and also generate the coupon promotion programms in POS option use enter code button.
09
New desigend Inventory Adjustment view
In new odoo v15 one of the best effective feature is newly designed inventory adjustment view. In this newly designed inventory adjustment view user can see timestamp of various products. with the help of this feature in odoo v15 user can see current situation of sales, Purchase and so on. In fresh new designed inventory adjustment view user get difference tool for recognize amount of stock left in inventory which is based on profit and loss of business.
10
New Command and command editors
Odoo v15 include User can easily determine invoices in account configuration in odoo v15 with the help of this new command and command editors
---
---